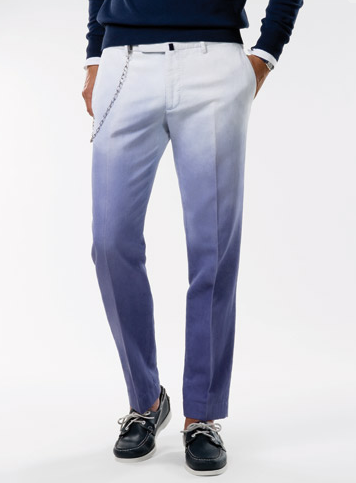 Over the last few weeks, we have been wading through the retail jungles of Hong Kong, Vancouver and Sydney to pick up a thing or two before the skiing season in St Moritz ends, and the swimming season in Stockholm begins. It's the same dilemma each year.
At times like this it feels good to know that although a post-shopping glass of Krug in Paris´ 3rd arr is a decent way of spending a Tuesday afternoon, the shopping answer to your question is always in Como. A Gi Emme is the store that always comes up trumps. And more importantly – they stock the eminent brand Incotex, an off shoot from the Italian fashion group Slowear.
Their chinos are simply incomparable, and also relieves you of a commonly spread plague known as SAS (and we're not referring to the non-business class MD-80s that operate between ARN and CPH).
Tyler himself describes it like this:
Every season I'm seduced into trying some other company's attempt at making the perfect twill trouser and they're never even close to Venice-based Incotex. They get the leg silhouette just right and also ensure that wearers never suffer from SAS – saggy ass syndrome.
This disease could well be one of the most unpleasant inconveniences to have to witness for the surroundings. So before the WHO get their act together and puts the diagnosis on one of those lists, make sure that you flat fronts are Incotex – or Italian at least. After all, we're not savages.